I sin presentasjon av Sokkelåret 2019 ga oljedirektør Ingrid Sølvberg uttrykk for at mange små funn nær eksisterende infrastruktur vil gi svært lønnsomme utbygginger.
– I 2019 ble det påbegynt 57 letebrønner, det er 4 flere enn året før, fortalte Ingrid Sølvberg da hun presenterte Sokkelåret 2019.
I Nordsjøen ble det boret hele 37 letebrønner, mens det ble boret 15 i Norskehavet og 5 i Barentshavet. I år forventer hun ca. 50 letebrønner.
Smått, men godt
Den høye aktiviteten førte til at det ble gjort 17 funn i 2019, 10 i Nordsjøen, 6 i Norskehavet og 1 i Barentshavet.
Som spesielt interessante trakk oljedirektøren fram Sputnik i Barentshavet (geo365.no: «Endelig et funn», som gir verdifulle tilleggsressurser til ev. utbygging av Wisting-funnet, gass i prospektet Ørn i Norskehavet, potensielt store reserver i Liatårnet i Nordsjøen (GEO 05/2019: «Ny letemodell påvist i Nordsjøen»), og Echino Sør i Nordsjøen (geo365.no: «Et stort, lite funn»).
Liatårnet vil bli presentert på NCS Exploration – Recent Discoveries 2020 (13.-14. mai, Scandic Fornebu, Oslo)
– Flere av funnene er relativt små, men de kan likevel gi store verdier til rettighetshaverne og til samfunnet, sa Sølvberg.
Så selv om Echino Sør er et lite funn, er det svært verdifullt fordi det enkelt og rimelig kan knyttes til plattformer og rørledninger i nærheten. Equinor har tidligere uttalt at funnet dreier seg om «high value barrels».
– Det er tankevekkende at det gjøres funn i en utvinningstillatelse fra 1989, la Sølvberg til.
"These high value discoveries are in contrast to larger sized volume discoveries, that will be less frequent and where production would be further out in time.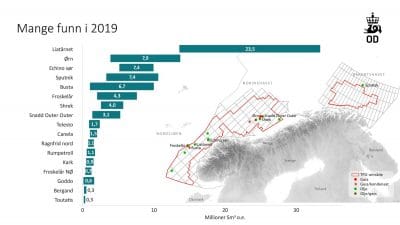 Bedre seismikk
I sin oppsummering ga Sølvberg uttrykk for at bruk av ny teknologi og teknologiutvikling er viktig for å finne og hente ut flere lønnsomme ressurser.
– Utviklingen innen seismikkteknologi de siste årene har for eksempel resultert i mye skarpere bilder av undergrunnen.
Oljedirektøren trakk spesielt havbunnsseismikk som AGS har samlet inn i Nordsjøen (GEO 06/2019: «The ultimate survey»).
– Det er oppsiktsvekkende at det er brukt 8000 noder og at surveyen er på hele 1600 km2. Dette betyr en betydelig forbedring i datakvalitet og gir muligheter for å øke leteaktiviteten.
Mer olje
Nye funn bidrar til å holde produksjonen på et høyt nivå. Siden 2011 er det i gjennomsnitt påvist ca. 500 millioner fat o.e. hvert år, det er rundt en tredjedel av den årlige produksjonen fra norsk sokkel.
–  Selskapene finner jevnt over mye. De siste to årene har det vært en markert økning i påviste volum sammenlignet med de tre årene før der igjen. Det viser at det er en sammenheng mellom antall letebrønner som bores og funn, sa oljedirektøren
I GEO 08/2019 («Best year since 2011») skriver Anders Wittemann at "The discovered, commercial volumes are 579 mill boe, with a range of 330-890 mill boe" og at "The industry now seems to recognize the high value discoveries, i.e. smaller discoveries near existing fields that can rapidly be put into production at low cost".