Britiske Hurricane Energy er avslørt i det som fortoner seg som intet mindre enn en skandale.
Det er ingen tvil om at det ligger olje i oppsprukket basement på Ronaryggen vest for Shetland. Spørsmålet vedrørende flere funn er hvor mye som kan produseres. Dertil vet vi nå at ett av funnene som det har blitt skrevet mye om, ikke er noe funn i det hele tatt.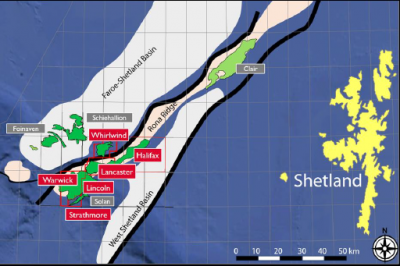 Illustrasjon: Hurricane Energy (2017)
Britiske Hurricane Energy, selskapet som i 2004 ble etablert for å produsere olje fra naturlig oppsprukket basement, er nå satt under lupen fordi ett av funnene deres – Halifax (2017) – viser seg kun å inneholde biodegradert og residual olje. Greit nok, for så vidt, det er ikke første gangen at oljeselskapene ikke finner det de har håpet på. Problemet er at selskapet har hevdet (og aksjonærene har trodd) at Halifax hang sammen med funnet Lancaster (funnet i 2009 med 205/21a-4), og at disse to funnene samlet har mer enn én milliard fat (!) produserbar olje, noe som i 2017 ledet til konklusjonen om at 2P og 2C ressurser utgjorde 2,6 milliarder fat for selskapet som helhet.
Nå er de optimistiske estimatene gjort til skamme.
En uavhengig ekspertrapport fra Independent Energy Experts (ERCE), datert 6. april 2021, hevder nå at «No resources are attributed by ERCE to the Halifax well».
Hurricane skriver nå dette på sin hjemmeside: «No Contingent Resources are attributed by ERCE to the Halifax well drilled in 2017,» samt av verdiene i feltet fullt ut vil bli avskrevet.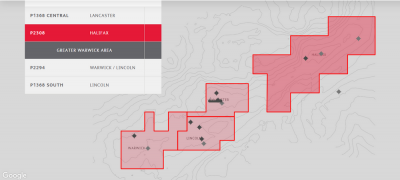 Hurricane Energys Greater Warwick Area med funnene Lancaster, Lincoln og Warwick. Nå vet vi at Halifax kun inneholder olje som ikke lar seg produsere. Illustrasjon: Hurricane Energy
Dette står i sterk kontrast til det Hurricane Energy tidligere har opplyst. Scottish Energy News skrev dette i 2017: «The biggest un-developed North Sea oil field just got three times bigger today after new tests confirmed the size of Hurricane Energy's west of Shetland field now contains more than 1,000-bn barrels (mer enn én milliard fat).
«"This is a highly significant moment for Hurricane and I am delighted that the Halifax Well results support the company's view that its substantial Lancaster discovery has been extended to include the Halifax licence.» Robert Trice, 2017, CEO Hurricane Energy
Videre skrev avisen at «A colossal column of oil – extending to more than one kilometre in depth – has been confirmed in new tests by Hurricane Energy on its Halifax field». Men ifølge ERCE ble det ikke påvist produserbar olje («The well did not flow to surface on DST»), noe som må henge sammen med at oljen påvist under boring senere har vist seg å være residual.
At oljen ikke kom til overflaten
ble imidlertid forklart med
(11. desember 2017) «
a combination of drilling mud and granite fines that resulted in a thick paste which blocked fractures and
made it very difficult for the well to flow».
"The exploration wells on Lincoln and Halifax have resulted in the discovery of extensive oil columns and we therefore expect that later iterations of our CPR will significantly upgrade our resource base on both the Greater Lancaster and Greater Warwick Areas. Robert Trice, 2017, CEO Hurricane Energy
Det er mye som tyder på at det kan bli en gedigen oppvask i vårt naboland.
Rapporten fra ERCE er også dårlig nytt for feltet Lancaster. Hurricane har tidligere operert med reserver i størrelsesorden 400 millioner fat. Nå heter det i rapporten fra ERCE at reservene i Lancaster, som per 31.12.2020 hadde produsert 8 millioner fat olje, kun utgjør 7 millioner fat olje (2P), per samme dato.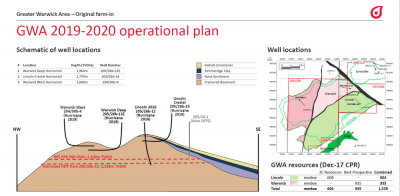 Hurricane Energy har tidligere oppgitt at funnene Warwick og Lincoln kan ha betingede ressurser større enn 1,5 milliarder fat olje. En ny ekspertrapport  avkrefter dette. Illustrasjon: Hurricane Energy