NCS Exploration – Recent Discoveries blir i år holdt på en digital plattform. Det gjør konferansen mer tilgjengelig for langt flere enn tidligere.
This years' format is ideal for gathering exploration teams on your company's own premises and extending the opportunity to participate in the conference to all the explorationists in your team who rarely get the chance to go.
It is also an excellent opportunity to learn and understand how other explorationists work, as we learned during a recording session in Stavanger on Tuesday.
«NCS Exploration – Recent Discoveries is a unique opportunity to see real cases where you can observe the cross-disciplinary approach in the professionals' way of working, says Jørgen Håstø Borgenvik, exploration geologist at Petrolia NOCO.
«It is truly exciting to follow the reasoning and evaluations that were done pre-and post-well measured against actual results. The presentations are great and make you aware of the uncertainties that the industry has to tackle on an everyday basis as well as the importance of alignment of geological and geophysical models,» he said, following one full day of talks and discussions.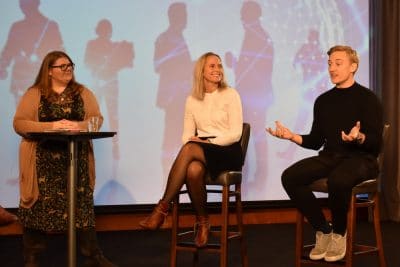 Jørgen Borgenvik attended the panel discussions. Here with Lisa Burton (Equinor) and Hege Blåsternes (Vår Energi)
Everybody attending
«As Petrolia NOCO is putting faith in their young, dynamic team, I was fortunate to attend the panel discussions and listen to the presentations during the recording session in Stavanger last Tuesday. I hope that more oil companies follow and see the potential of our young, up-and-coming geoscientists and allow them to take a part in this conference. It was a great learning experience.»
«Petrolia NOCO is sending our entire exploration team to the conference as we believe this open and collaborative approach in presenting data is the future for value creation on the NCS."
Time to sign up
The conference will be 100% digital. The content will be available until October 25 to ensure that those who miss out on a presentation can watch it at a later convenient time.
Companies can sign up online and select the delegate package that suits the organization best.