Norges nest største gassfelt blir enda større, og sikrer leveranser til England langt fram i tid.
Ormen Lange er for tiden Norges nest største gassfelt (etter Troll). Nå blir det enda større. Ved hjelp av havbunnskompresjon skal ytterligere 30-50 milliarder kubikkmeter naturgass bli produsert, skriver Shell i en pressemelding.
Ifølge Norske Shell betyr dette at utvinningsgraden på feltet øker fra 75 til 85 prosent.
De opprinnelige utvinnbare reservene i Ormen Lange-feltet var 301,6 mrd. m3 gass (eller 1,9 mrd. fat o.e.) samt 19,1 mrd. m3 kondensat, eller lettolje (tilsvarende 120 millioner fat o.e., like mye som i et middels stort oljefelt).
Norskpetroleum.no oppgir at de gjenværende reservene er 70 mrd. m3 gass, men nå øker disse altså med 30-50 mrd. m3 (eller opp mot 300 millioner fat, noe som i dag er å regne som et betydelig felt på norsk sokkel).
Ormen Lange ble påvist i 1997, og plan for utbygging og drift (PUD) ble godkjent i 2004. Feltet kom i produksjon i 2007 og produserer tørr gass og mindre mengder kondensat fra sandstein av paleocen alder i Eggaformasjonen. Reservoaret ligger på 2700-2900 meters dyp under havoverflaten og har svært god kvalitet.

Eggaformasjonen
«The Egga formation (also referred to as Egga Member or Egga sandstone unit) has been encountered in a number of wells in the Møre Basin and Slørebotn Sub-basin. It comprises sandstones of Danian age and is interpreted as deepmarine massflow deposits." npd.no
Ormen Lange eksporterer gass via verdens nest lengste rørledning – Langeled – til Europa, og «bidrar dermed til å sikre pålitelig forsyning fra Norge». Ifølge Shell dekker feltet opptil 20 prosent av Storbritannias gassbehov.
Langeled har startpunkt ved prosessanlegget på Nyhamna vest for Molde. Gjennom den nordlige delen av rørsystemet blir gassen sendt til Sleipner og videre til Easington på den engelske østkysten. Gassco er operatør for både Langeled og mottaksterminalen i Easington.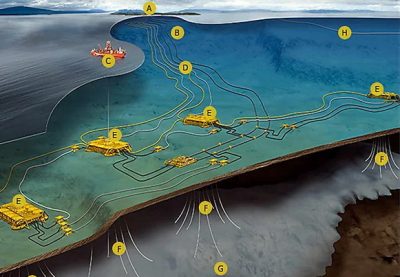 Ormen Lange
Bokstavene referer til A: Nyhamna landanlegg, B: Storegga, C: Boreskip, D: Rørledninger, E: Brønnrammene, F; Brønnene, G: Reservoaret (ca. 3000 meter under havoverflaten).
Havbunnskompresjon

«Placing the compressor on the seabed spares the enormous cost of building and operating an offshore platform. Moving the compressor closer to the wellhead, increases production because of a lower pressure drop in the pipeline downstream, hence, the power required is lower compared to the alternatives. Subsea compression is also an ideal solution for deep waters and harsh climates. Aker Solutions delivered the world's first subsea compression system to the Åsgard field in 2015. » Kilde: AkerSolutions