EU har for fjerde gang publisert en liste over kritiske materialer og råstoffer. Fire nye har kommet til.
Wolfram får telefonene til å vibrere. Gallium og indium får LED-lysene til å virke. Men EU mener at Europa ikke har god nok tilgang til dem.
Kritiske materialer er av EU definert som materialer som har stor økonomisk viktighet og hvor det er knyttet risiko til tilgangen («high supply risk»). Den nye listen fra EU inkluderer fire nye metaller og råstoffer («Critical Raw Materials Resilience: Charting a Path towards greater Security and Sustainability").
De tre første vurderingene kom i 2011, 2014 og 2017, og på ni år har antallet økt fra 15 til 30. Siden 2017 har litium (som brukes i batterier) og strontium (som anvendes i magneter i el-biler) kommet til. EU påpeker at det trengs 18 ganger mer litium og 5 ganger mer kobolt for at unionen skal nå sine klimamål. Bauxitt og titan er også lagt til listen.
Vi ser altså at det grønne skifte stiller høye krav til mineraltilgangen i EU.
"Access to resources is a strategic security question for Europe's ambition to deliver the Green Deal
Det mest skremmende er vel at EU henter nesten hele forbruket av sjeldne jordarter fra Kina (se kartet), at 71 prosent av fosforforbruket importeres fra Kazakhstan, og at 68 prosent av kobolt-forbruket må hentes fra Den demokratiske republikken Kongo (DRC).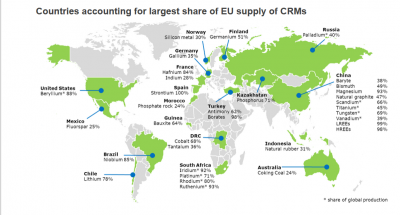 EU (inkludert Norge) har altså gjort seg fullstendig avhengig av land som ikke setter verken demokrati, miljø eller HMS høyt.
EU fremhever også at den enorme appetitten på ressurser (mat, energi og råvarer) legger et enormt press på planeten, og at det derfor er svært viktig å oppskalere den sirkulære økonomien.
Listen: Antimon Barytt Bauxite Beryllium Bor Fosfor Fosforitt Kobolt Kokskull Flusspat Gallium Germanium Hafnium Tunge jordartsmetaller Lette jordartsmetaller Indium Lithium Magnesium Naturlig grafitt Naturlig gummi Niob Platinametaller Scandium Silisium metal Strontium Tantal Titani Vanadium Vismut Wolfram