Equinor har med brønnen 31/2-22S påvist opp mot 120 millioner fat i Blasto-prospektet rett nord for Troll-feltet. Det er dermed det største funnet på norsk sokkel i år.
Selskapet har på denne måten – nok en gang – tydelig demonstrert  betydningen av nærfeltleting.
expronews.com: North of Troll Area Delivers Again
– Dette funnet viser hvor viktig det er å fortsette leting nær eksisterende infrastruktur. Det er gjort flere funn i dette området, og erfaringen fra de siste 20 årene viser at mindre funn også kan gi stor verdiskaping, sier Kalmar Ilstad, direktør for lisensforvaltning i Oljedirektoratet, til DN.
Teknologi tatt i bruk under prospektevalueringen vil bli presentert på konferansen Recent Advances in Exploration Technology May 19-20: «The Blasto Discovery: 4D-led Exploration.«
Nick Ashton, letesjef for norsk sokkel i Equinor, sier til DN at funnene Echino Sør, Swisher, Røver Nord og Blasto «er de første konkrete resultatene i leteaktiviteten av den store digitaliseringsbølgen som har gått gjennom selskapet og bransjen».
– Vi begynner å høste frukter nå etter tre-fire år med moteord. Her er det et håndfast, konkret eksempel på at vi skaper verdi med digitalisering, sier Ashton.
Nettopp derfor skal det bli interessant å høre Kristina Helland-Hansen, VP EXP NUKE Assets North Sea at Equinor, sitt keynote foredrag (Greater Fram – The Ship That Never Sinks!), samt Fabian Johannes Tillmanns, Exploration Geologist & Mark Van Schaack, Exploration Geophysicist at Equinor sitt foredrag om bruk av 4D seismikk i de-riskingen av Blasto-prospektet, på konferansen NCS Exploration: Recent Advances in Exploration Technology (se programmet her).
Tillmann og Van Schaack vil også fortelle historien om hvor uheldig Shell var da de boret dette prospektet i 1982 med 31/2-8…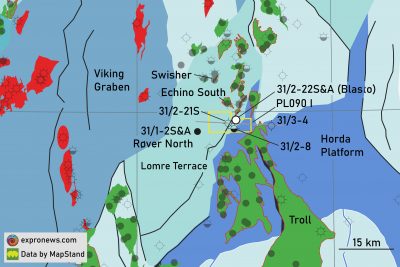 Equinor har stor suksess med nærfeltleting nord for Trollfeltet. Bare i år er det gjort to funn. Illustrasjon: expronews