Prosjektet Released Wells Initiative ble utropt som årets vinner av Exploration Innovation Prize.
«With 54% of the votes from the conference participants, and a strong endorsement from all members of the jury, I am very pleased to announce that a cutting-edge cutting project has surfaced as the winner of this years' prize: The Released Wells Initiative,» Torgeir Stordal, Technology and Coexistence in the Norwegian Petroleum Directorate (NPD), said during last night's Award Ceremony at the NCS Exploration 2021 conference when handing out the Prize.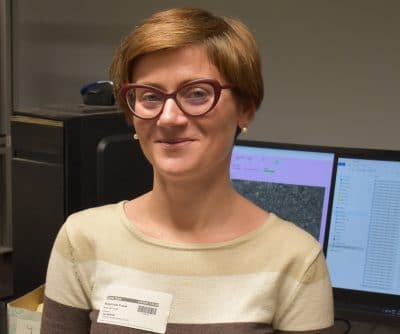 Malgorzata Kusak i Norsk Olje og Gass er prosjektleder for Released Wells Initiative. Foto: Halfdan Carstens
The main reasons for awarding the prize to the Released Wells Initiative are the following observations:
it is unique in nature – who knows of a similar project being carried out elsewhere? It surely puts Norway on the map in terms of doing innovative things with data many people probably forgot about,
it is generating data that can be used by all operators for a variety of different purposes,
it has also proven to be of value for the service sector through creating ways to optimise data handling,
it also forms a great resource for academia once it will be publicly released.
Se også geo365.no: «En storstilt dugnad«: «Hensikten er i første omgang å gi geologene muligheten til å få bedre stratigrafisk kontroll og geologisk forståelse, men i tillegg har dataene et potensial for å effektivisere boreoperasjonene og gjøre de tryggere».