Neptune Energy melder entusiastisk om oljeshows i Dugong-prospektet og har besluttet å ta kjerneprøver gjennom reservoaret.
Da boringen av prospektet Dugong (34/4-15, PL 882) gikk inn i reservoaret meldte geologene om spor av olje. Operatøren besluttet da å ta en kjerneprøve. «Upon entering the reservoir, logs and cuttings have identified hydrocarbons and a decision has been made to initiate coring,» skriver selskapet i en pressemelding.
For flere tekniske detaljer, se expronwes.com: Oil for Netptune in the North Sea
I sin årsrapport fra 2019 skriver Concedo at «The Dugong prospect is a combined structural and
stratigraphic trap located in the central part of the licence. The reservoir comprises sandstones of the Middle Jurassic Brent Group. Most fields in the area produce from the same reservoir.»
Hvis kjernene og loggene bekrefter tilstedeværelsen av olje, har Neptune Energy en opsjon for å bore en avgrensningsbrønn. Det vil derfor ta lang tid før vi får bekreftet den eventuelle størrelsen på funnet.
Reservoaret ligger på 3 350 – 3 400 meters dybde.
Steinar Meland, Exploration and Development Director Norway for Neptune Energy, har tidligere uttalt at Dugong-brønnen "could open up new and exciting opportunities in surrounding licences".
Lisenshaverne er Neptune Energy, (operatør med 40%), Concedo (20%), Petrolia NOCO (20%), og Idemitsu Petroleum Norge (20%).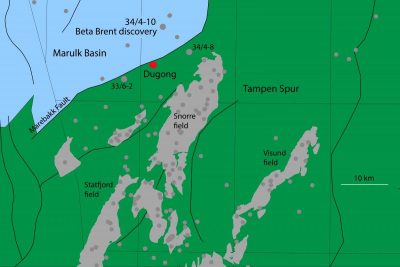 About Neptune Energy Norge AS   
Neptune Energy Norge is a subsidiary of Neptune Energy. The company is the operator of the Gjøa field in the North Sea. It has three operated development projects: Fenja, Duva and P1. The Company is a partner in several producing fields: Bauge (under development), Brage, Draugen, Fram, Gudrun, Hyme, Ivar Aasen, Njord and Snøhvit. Neptune Energy Norge is a participant in a total of 75 licences. For the full year 2019, Neptune produced 67 kboepd in Norway.
About Neptune Energy Group 
Neptune Energy is an independent global E&P company with operations across the North Sea, North Africa and Asia Pacific. The business had production of 144,000 net barrels of oil equivalent per day in 2019 and 2P reserves at 31st December 2019 of 633 million barrels of oil equivalent. The Company, founded by Sam Laidlaw, is backed by CIC and funds advised by Carlyle Group and CVC Capital Partners.