EU har tatt inn over seg at fremtidens mineralproduksjon også vil dreie seg om havbunnen.
Gjennom et europeisk konsortium er Norges geologiske undersøkelse (NGU) med i et større arbeid som går ut på å bygge opp en database over blant annet forekomster av undersjøiske sulfidavsetninger (Sea-Floor Massive Sulphides (SMS)) i europeiske farvann (geo365.no: «Mineralforekomster i dyphavet»)
Databasen vil bli benyttet til å vurdere ressurspotensialet for europeiske SMS-avsetninger, og skal inneholde forekomster i Atlanterhavet, Middelhavet, Svartehavet og Østersjøen.
– Prosjektet vil avsluttes neste år, opplyser Henrik Schiellerup, avdelingsdirektør ved NGU, som leder for arbeidspakken vedr. SMS-forekomster.
Schiellerup forteller videre at NGU kun har en koordinerende rolle siden det er Oljedirektoratet som sitter på dataene samlet inn i norske farvann de siste tre årene (geo365.no: «Boret på 3000 meters dyp«).
De første kartene ble publisert i desember 2019, og basen teller i dag totalt 600 forekomster av både SMS-avsetninger, manganskorper og manganknoller, så vel som fosforitter (assosiert med upwelling på vestkysten av Amerika og Afrika, og f.eks. New Zealand) og «marine placers» (e.g. diamanter utenfor Namibia).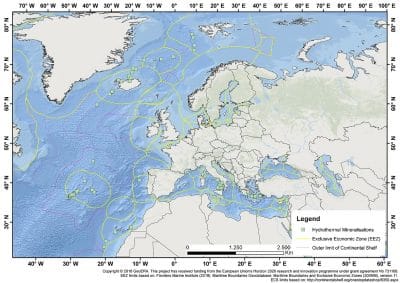 SMS-forekomster i europeiske farvann. Kilde: https://geoeramindesea.wixsite.com/mindesea
Analog for SMS
Sea-Floor Massive Sulphides er den moderne ekvivalenten av landbaserte, vulkanogene massive sulfider (Volcanogenic Massive sSulphides (VMS)) som har gitt grunnlag for europeisk gruvedrift gjennom flere århundrer.
Kunnskapen om VMS-avsetninger er essensielt for å forstå dannelse, struktur og sammensetning av SMS-avsetninger («the past is the key to the present»).
«Mining of copper and zinc from massive sulfide depos­its has a long tradition in Norway, with more than 450 years of production. Major mining districts included Røros, Løkken, Sulitjelma, Folldal and Grong. More than 100 Mt of ore was extracted from 10 major mines and districts, producing 1.7 Mt Cu and 1.9 Mt Zn as metals. In addition, Pb, Ag and Au, as well as pyrite were produced"(ngu.no)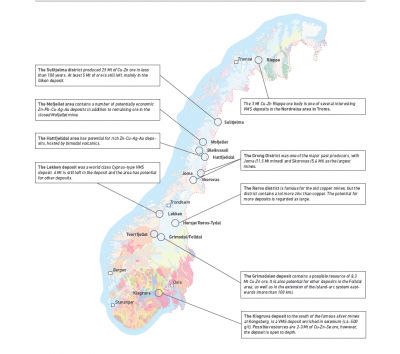 VMS-avsetninger er altså viktige ressurser for kobber, sink, bly, gull og sølv. I tillegg kan de inneholde økonomisk interessante mengder av kobolt, tinn, barium, svovel, selen, indium, vismut, tellurium, gallium og germanium. Flere av disse, så som vismut, kobolt, gallium og germanium, betraktes av EU som kritiske råstoffer.
«The widespread recognition of modern seafloor VMS deposits and associated hydrothermal vent fluids and vent fauna has been one of the most astonishing discoveries in the last 50 years, and seafloor exploration and scientific studies have contributed much to our understanding of ore-forming processes and the tectonic framework for VMS deposits in the marine environment."

USGS ("Volcanogenic Massive Sulfide Occurrence Model")
Illustrasjon: VMS prinsippskisse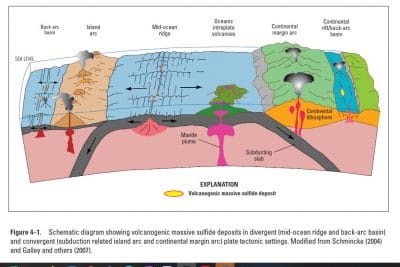 Kilde: USGS
These occurrences of massive sulphides form at submarine plate boundaries, where an exchange of heat and elements occurs between rocks in the Earth's crust and the ocean due to the interaction of volcanic activity with seawater. Cold seawater penetrates through cracks in the sea floor down to depths of several kilometres. Near heat sources such as magma chambers, the seawater is heated to temperatures exceeding 400 degrees Celsius. Upon warming, the water rises rapidly again and is extruded back into the sea. These hydrothermal solutions transport metals dissolved from the rocks and magma, which are then deposited on the sea floor and accumulate in layers. This is how the massive sulphides and the characteristic chimneys ("black smokers") are produced (https://worldoceanreview.com/en/wor-1/energy/marine-minerals/ ).
MINDeSEA aims to contribute to a better understand of metallogenic seabed mineral deposits in all European seas. The Project will contribute to an integrative study through the participation of expert groups from across Europe and the United States with expertise pertaining to varying types of seabed mineral resources. Our vision is to provide knowledge and guidance for decision makers to systematically and effectively manage seabed mineral deposits across Europe. Results from legacy and ongoing projects such as Blue Mining and EMODnet-Geology will be integrated and updated where appropriate. Results of this project will be added to the European Union Raw Materials Knowledge Base (EURMKB).
I hht. USGS: "Volcanogenic massive sulfide deposits range in size from small pods of less than a ton (which are commonly scattered through prospective terrains) to supergiant accumulations like Rio Tinto (Spain), 1.5 Bt (billion metric tons); Kholo­drina (Russia), 300 Mt (million metric tons); Windy Craggy (Canada), 300 Mt; Brunswick No. 12 (Canada), 230 Mt; and Ducktown (United States), 163 Mt (Galley and others, 2007). Volcanogenic massive sulfide deposits range in age from 3.55 Ga (billion years) to zero-age deposits that are actively forming in extensional settings on the seafloor, especially mid-ocean ridges, island arcs, and back-arc spreading basins (Shanks, 2001; Hannington and others, 2005).