Et vitenskapelig tokt til Polhavet i 2004 skulle vise seg å gi et betydelig kunnskapsløft om Jordens klimatiske utvikling gjennom kenozoikum. Nå er den fascinerende historien kommet i bokform.
Den 27. august 2004 starter endelig boringen. Det har gått nesten tre uker, og to mislykkede forsøk på å komme i gang, siden Vidar Viking la ut fra Tromsø. To dager etter «spud» har borekronen nådd 299 meter ned i berggrunnen, og borekjernene blir uendelig sakte – og svært forsiktig – lagt ut på dekk.
«An audible gasp fills the room»
Tusenvis av tynne, grå og brune uforstyrrede lag blir avdekket. De brune stripene består av organisk materiale, og noen av dem er så tynne at de bare kan sees med mikroskop. Palynologen Henk Brinkhuis tar varsomt ut noen prøver og bærer de med seg til laboratoriet. Der står mikroskopet klart. Etter et par, lange timer er han tilbake.
"It's absolutely certain. It is no doubt at all»
The Azolla Story: A Message from the Future, 2020

Dr Jonathan Bujak, Alexandra Bujak
Scenen er som hentet ut av en spenningsroman.
I stedet befinner vi oss i Arktis, på ordentlig, nærmere bestemt på Lomonosovryggen, der IODP for 16 år siden utførte den aller første boreoperasjonen i det islagte Polhavet. Tre fartøyer var nødvendig for å få det til, ett boreskip og to isbrytere.
Det palynologen fant var usedvanlig godt bevarte fossiler. De representerer én helt spesiell art som levde i det ferske overflatevannet og falt ned på bunnen da de døde for 49 millioner år siden.
"Imagine a plant with almost magical qualities, one of the fastest growing on the planet, a plant that needs no soil to grow, providing an unlimited supply of food and livestock feed, as well as biofertilizer to grow other crops, anywhere in the world.»
Nå vet vi at oppblomstringen av planten azolla – egentlig to organismer i ett, bregne og cyanobakterie – gjorde ende på greenhouse world og markerte begynnelsen på icehouse world.
Historien fortelles i, og sitatene er fra boken The Azolla Story som ble publisert i år, forfattet av far og datter Jonathan og Alexandra Bujak, der paleontologen Jonathan blant annet har forsket på hvordan menneskene kan nyttiggjøre seg azolla-planten i alt fra jordbruk til romforskning.
Det er et heldigvis et stort mangfold av populærvitenskapelig bøker tilgengelig for både menigmann og geologer.
Denne boka skiller seg definitivt ut. Den er usedvanlig godt skrevet, og innimellom føler vi oss hensatt til en helt annen tid.
Dertil sitter vi til slutt igjen med vissheten om virkelig å ha lært en masse nytt om Jordas historie generelt – og en svært spesiell hendelse spesielt.
«You are standing on an ancient shore looking across the Arctic Ocean towards the North Pole a few hundred kilometres away. It is humid and warm with temperatures reaching 20 degrees Celsius in the summer and rarely falling to zero. The lowlying land behind you is densely wooded with deciduous trees and evergreen conifers, while nearby lakes and rivers teem with fish.»
Boken er nærmest skrevet i romanform. Den er imidlertid bygget på faktiske hendelser som omhandler det møysommelige arbeidet med å realisere en vitenskapelig oppdagelse, for ikke å snakke om at vi på kjøpet får en mengde streif inn i geologenes forståelse av Jordens utvikling gjennom 4,6 milliarder år. Samt mye, mye mer, om for eksempel menneskenes hensynsløse utbytting av kloden, men også om hvordan vi kan bidra til å redde den ved å ta i bruk en plante som endret Jordens klima.
Den perfekte julegave.
HALFDAN CARSTENS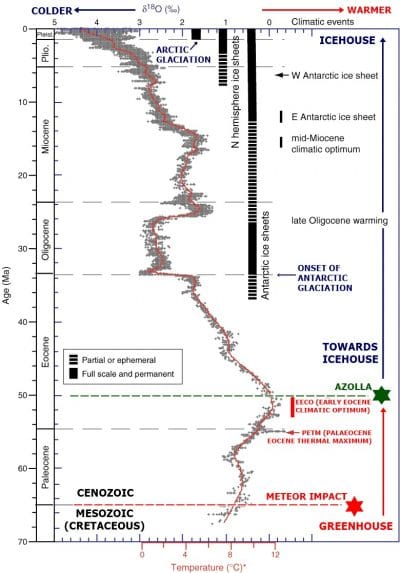 Klimautviklingen gjennom kenozoikum der vi ser hvordan temperaturen når sitt maksimum rett før azolla-hendelsen. Illustrasjon: The Azolla Story
Dr Jonathan Bujak is a paleontologist with more than 100 scientific publications. He has worked in the Arctic for 40 years, studying its geology and the massive changes that occurred as the climate changed from the greenhouse world of the dinosaurs, to our present icehouse world with its permanent glaciation at both poles and succession of devastating glacial-interglacial cycles. His daughter, Alexandra is an environmental scientist who is developing azolla's potential to help us weather today's Perfect Storm, including azolla's ability to sequester the greenhouse gas carbon dioxide and convert it into local renewable food, biofertilizer, livestock feed and biofuel. Source: The Azolla Story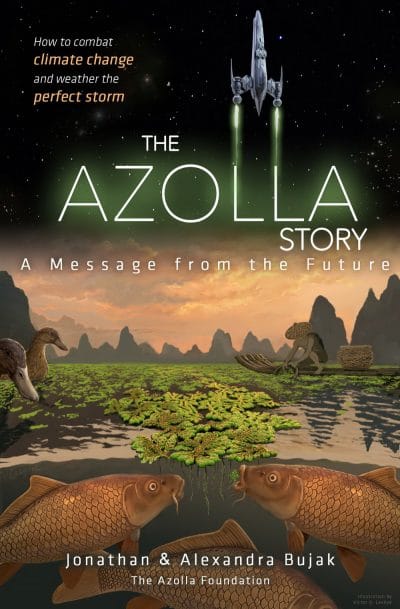 The book cover was designed by paleoartist Victor Leshyk.